Book One ~ A Carpet of Purple Flowers
An Epic Fairy Tale drawn from folklore & mythology
First Edition Published by Urbane Publications (UK)

Second Edition 2019

(all rights reverted back to author 2018) Tracey-anne McCartney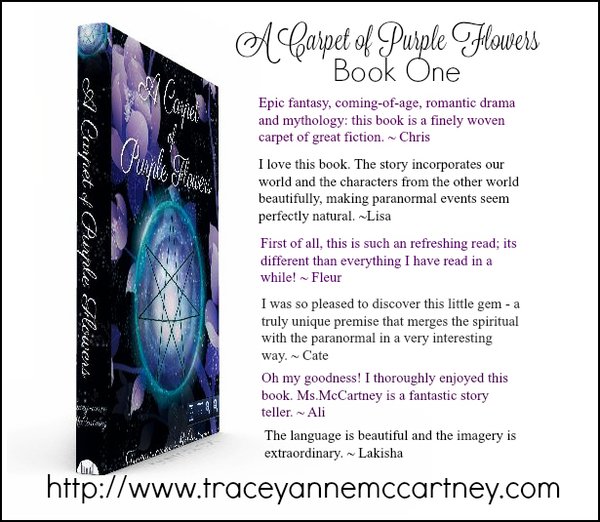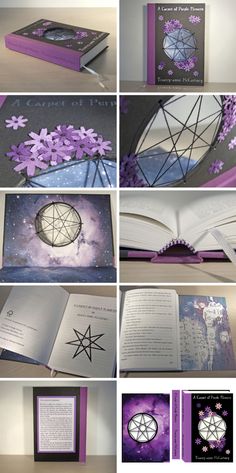 BOOKLIST
EDITORIAL REVIEW ~ A CARPET OF PURPLE FLOWERS
Fantasy fans will wait eagerly for the next instalment in McCartney's series, enchanted by the complicated love story and the surprising cliffhanger ending. — Amy Dittmeier (American Library Association)
As a romance editor / addict / obsessive, I often feel that even the best new novels are re-hashes of books I've read before. Which is why I was so pleased to discover this little gem - a truly unique premise that merges the spiritual with the paranormal in a very interesting way. The characters are gorgeous, and the love triangle is full of twists and surprises. You love and sympathise with your characters and this makes the writing live and breathe. I can see it being a very popular book, and look forward to seeing his story flower into something truly special. I highly recommend. I hope there will be a second book.
-- Cate Hogan, Author & Developmental Editor, Washington Post & USA Today
It's beautiful, a work that must be made into book form as soon as possible! I'm still thinking about it today.
— V.S Freelance Editor at Black Bride Magazine & Managing Editor at Psych2go.net
This is the first paranormal romance I have ever read, and found it an enjoyable introduction to the genre. It has an original premise and a collection of strong characters. The ending is packed with drama and the ultimate resolution is a surprise. The plot and subplots are strong. --- Honey Badger's Bookclub
This is a book that made me want to cry at the end. Not because it was sad or anything but just because it ended. I rarely give a book a five star rating but this one totally deserved it. It was PERFECT. The characters were so beautiful. They make you cry with them and laugh with them too. They make you want to be a part of the story. Although the author creates a whole new world with different people and traditions you are never at a loss understanding them. This story has a lot of twists and you never know what's going to happen. Also, everything is described so vividly - the scenery and the characters - that it feels like you are living the story. Goodbye everyone, now I'm going to go cry. :'(
I don't think I've ever used the word cry so many times in a single paragraph before.
A world within a world that you never knew existed and one you'll NEVER forget. 'A Carpet of Purple Flowers' ticks all the boxes: fantasy, romance, action and suspense. Creative storytelling tantalises all the senses transporting the reader to a realm where earthly boundaries do not apply. Exceptional and engaging dialog filled with raw emotions and sly humor brings the characters to life. The story quickly revs up and propels the reader into layers of the otherworldly sprinkled with folklore and magic. The turn of each page delivers unexpected plot twists. You will lose track of time and yourself in Bea's story which can not end here. Make room on your bookcase, 'A Carpet of Purple Flowers' is destined to blossom into a wondrous book series.
This book is a genre I wouldn't usually look at. The day my uncle passed away, almost a year ago, I went to my local library for solace. I picked up this book, then saw the main character's uncle had just passed away. Thinking I may find some comfort in the story I borrowed it, read it, and loved it. It was an easy to read, and believable story. Now almost a year later, with an anniversary looming, I feel drawn to this book again. I have borrowed it once again from my library as I haven't been able to find it to buy here in Australia. If you like a story that is full of multiple worlds, believable characters, and a little romance; and that seems like it could take place in your world then this book is for you.
When I think of Purple I now think of Trace's Great Book and then Prince.
A Carpet of Purple Flowers is a paranormal romance, and a highly original one at that! I have read quite a few PNR, and I swear, I haven't read one quite like Tracey's. She completely sucked me into her world with her amazing details and imagery, witty dialogue, and a variety of completely different characters who all wormed their way into my mind and heart. I really really enjoyed your novel, and you have quite the ability to tell not only an interesting story, but pull the reader into this world so well, that I was very disappointed that it was done. I am still in team Karian.
I was sent this book from the lovely Author to read and do an honest review on.. can i just say how LOVELY Tracey-Anne is! I have been talking with her on Twitter and she's been sweet and friendly!
This book was sooooo GOOD! Mystical..magical..spiritual.. romantic ... liked the way magic and the real world mixed together. the characters were great esp', Bea, the main girl.
Lots of Twists and turns and emotional . This is book 1 in the series and i am soooo excited to read book 2! The ending was a real twist which i loved!
This book is really great :)
This is the kind of book that makes you glad to have stepped out of your comfort zone for a moment. Although aspects of magical folklore and the like have always intrigued me, I've never been that keen on reading about them in fiction, perhaps because I think it is a genre that is often lazily presented, to its own detriment. Not so with this book, however, which I thoroughly enjoyed on very many levels. The folklore isn't just thrown in there, it is researched and well considered, as well as being presented in a believable manner. So too is the main character, suddenly thrown into this new, etheral world. While saying that there is something for everyone in this book, I don't mean it at all flippantly - the elements of fantasy, love, magic, sex, humour and raw emotion are all expertly intertwined by a very talented writer who really seize her opportunity to make this genre her own. I look forward to more.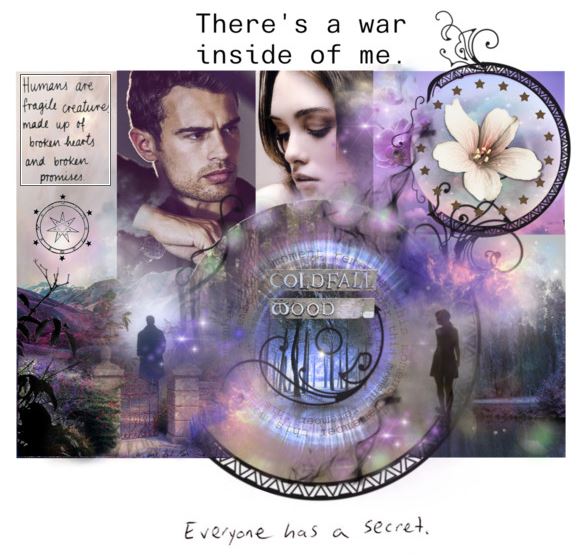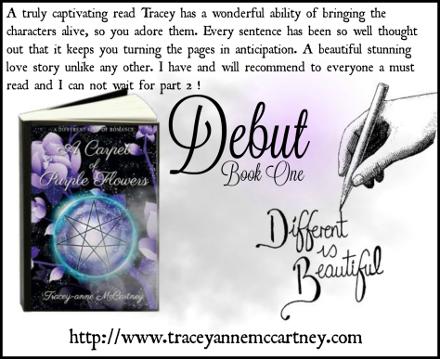 Epic fantasy, coming-of-age, romantic drama and mythology: this book is a finely woven carpet of great fiction.
Bea, owner of a little bookshop, is drawn into the war between two paranormal factions. Kari, a royal on one side, thinks Bea's harbouring the soul of his long-lost love, Alithia, and sets out to re-win her heart. Chance, a warrior for the other, thinks he's protecting Bea, but endangers her through his own actions. As Bea gets pulled in different directions, and starts to uncover histories and recover memories, she realises she alone holds the key to this war...

From the blurb, I expected a kind of 'Twilight for adults'. What I got was intricately-imagined fantasy, suspenseful action, two beautifully interwoven love stories (not the kind of paranormal love triangle I was anticipating), and a lot of well-crafted drama. Brilliant - I want more!


I received A Carpet of Purple Flowers in exchange for an honest review.
Oh my goodness! I thoroughly enjoyed this book. Ms.McCartney is a fantastic story teller. She takes the reader on a journey that has many twists that are not anticipated.
Bea's quiet life as the owner of a small book store in London is forever changed when she meets two men from a long forgotten race.
Love and new found friendships dominate this story. Bea is exposed to many things she didn't know existed. Learning about this alternate world, she learns that her past life is linked to these beings.
I would recommend this book to readers that enjoy romance with a little magic involved.
Thank you for allowing me to read this very well written and immensely enjoyable story.
"The veil between the worlds is thin"
This is a most entrancing and captivating story. Bea, as the central character, weathers every emotional storm you can imagine, and as we get to know her, we feel for her plight, and one is torn on her behalf as she herself is torn, between two men, two identities, two realms of reality.

Bea is living a fairly ordinary life, running a small, somewhat esoteric, bookshop in London, left to her by her much-missed uncle. Into her somewhat muted existence burst beings from another realm, and why they are so interested in her gradually becomes apparent.

Tracey-anne McCartney introduces us to a richly-detailed and dramatic cosmology drawn from Irish folktales, mythology, and magic, and it is by virtue of this age-old relationship between the world of the Sidhe and that of humans that we find ourselves drawn in most strongly. It is the skilful, often humorous, blend of supernatural and spiritual elements with that of ordinary life; the hopes and disappointments of the ordinary person, as experienced by Bea, which makes this novel so charming, and makes us experience Bea's emotional maelstrom as our own. We want the best for her, even if deciding what that may be seems near impossible.

The final scene in Coldfall Woods is magnificently achieved, and the writing overall has the right balance of lyricism and restraint, and is peppered with moments of levity when appropriate. The narration allows one not only to viscerally experience the events described, but also to be privy to the internal life of the principal characters, sensing their doubts, their confusion, their pain and joy – Bea's in particular.

The finale does not give up all the secrets hinted at during the novel. Who exactly is Jonathan? What does Bea's future hold? And other questions, which I will not pose here for fear of spoiling the many surprises and revelations this artfully-plotted novel offers us en route.

A Carpet of Purple Flowers is an original, entertaining, and sophisticated blend of romance, the paranormal, and the spiritual.

I'm following Tracyanne MCCartney on Twitter and got curious! Bought is as an E book and read it within a couple of days!
It's an amazing book, never boring for even a minute! Covers it all, romance, action, adventure.. Love the characters! Looking forward to the next book!
What a beautiful novel! I am a huge fan of folklore woven into a storyline and this book did not disappoint. It is written as a romantic, fantasy using myth and imagery to enhance the new world the author creates. I loved the protagonist Bea portrayed as an modern woman running her own business.
I don't do spoilers, but the struggle between two love's happening in the book is a reflection of of what I have experienced in my own life as a young woman. Wonderfully written. A must read for romance, fantasy & admirer's of women's fiction.

Interesting twist on a classic fairy tale theme. I enjoyed the characters and how the story unfolded. I liked Tracey Anne McCartney writing style.
Bea is a bookstore owner in London living a quiet life when she starts meeting people she believes are random. It turns out they've intentionally inserted themselves into her life and are from another realm. Bea has a connection to them she never could've imagined, which complicates her life, brings love, friendship, and forces her to make impossibly difficult decisions about her future. I love this book. The story incorporates our world and the characters from the other world beautifully, making paranormal events seem perfectly natural. Nothing felt forced and the pace of uncovering another realm and its people was done so well that it's easy to lose yourself in the story without struggling to comprehend while being introduced to it. I hope this book is going to turn into a series.
A Carpet of Purple Flowers is beautiful in so many ways, the story itself, wonderful descriptions that really come alive in your imagination, the believable characters and the otherworldly beings the Sindria are a stunning creation.
It's a great mixture of reality and fantasy with well researched myth and folklore. Set in modern London, there are visits to the beautiful landscape of Scotland and glimpses of the world the Sidhe inhabit.The central character, Bea, is a lovely young woman who you can identify with and the twists and turns in the story compel you to read on to find out what will happen next. Can't wait for book 2!
This is an amazing story,keeps you wanting to keep turning the pages,what an amazing mind Tracey-anne has. I've nearly finished it, its a must buy,totally captivating .
A rich woven tapestry of worlds colliding together as Bea discovers she is a reincarnated soul from another realm. Tracey McCartney has penned characters that are totally believable within the settings of London and Scotland as the plot unfolds to reveal the otherworldly realms of the Sidhe and the inhabitants that are either Seelies or Unseelies, beautiful beings that also live amongst us. A Carpet of Purple Flowers is steeped in folklore and magic, the story line twists and turns and the ending leaves us the promise of more to come.. A very easy read that leaves you wondering what happens next and by the end wanting more.
Not normally my genre, but was sucked in from the get-go, the author gifted at pulling you in. Could have been the instant love of the character, Bea, a book shop owner in London and the heroine in this story. Which may I say was very well written, not overly wordy (can't stand to much description) but still a whopping 400 pages. Honestly, the story was so engaging and hard to put down, It didn't matter. All the characters I liked, even Brandon whom at times I felt sorry for. Well done Tracey-anne, on a beautiful journey and debut book!
A Carpet of Purple Flowers is a tale of faeries, sidhe, witches and more. Bea, a human, is a divorcee who loves comfort and consistency after a tumultuous marriage. Nothing is better than sweet, hot tea and a book. All this changes when she accepts a party invitation and during the evening sees those that should not be seen. Enter characters from another realm to enquire why she has been able to see and talk to those not of this world. Bea's quiet time of self-healing is blasted by a war between the seelie and unseelie, a sort of ethereal Hatfields and McCoys. Bea finds there is more within her than she ever knew and winds up passionately embroiled in relationships with two men on opposing sides of the sidhe war. Parts of this novel are well written and gripping, especially the fighting scenes, but the romantic scenes are tinged with purple patches. Some of the plot is overwrought, but this is a fast, take you-out-of-your-daily cares kind of read. It is graphic, so there's a caution.
I was lucky enough to read this book before it was published and I was immediately blown away by the depth of the story. More than anything, writer Tracey-Anne McCartney knows how to do characters. They just leap to life from the page - they are the kind you find yourself wishing they were real. The story itself twists and turns so many times it leaves you a little breathless. But of course, my favorite part, above all was the writing itself. The beautiful descriptions of the scenery just put you right in the story. It really comes to life, more so than any book I've read in a long time. Ever since I read it, I've been on the edge of my seat waiting for the sequel. I knew from the start that this would be a book that would go places...first publication, but now I wouldn't be afraid to bet on a film adaption sometime in the future!

First of all, this is such an refreshing read; its different than everything I have read in a while! Especially the first part of the book is fast-paced, you get to know the characters but most important: You are introduced to a whole new world! You get to know this world bit by bit, the book did not throw all the information about this world at you all at once, which kept me curious.
The characters are well-developed, and I loved every one of them! Especially Chance and Karian. I also really liked to see Bea develop, if you compare the Bea from the first chapter, with the Bea she has become in the last one, you see the difference is huge! This book includes a heart-wreaking romance, a refreshing world and an original plot which I really liked! Although I'm not a big fan of love triangles, this one was very well done in my opinion.

Read this one BEFORE it becomes a motion picture. This author has a wonderful way of making you forget that you are reading. I'm so happy.
Arghhhhh, this book is so awesome, I am speechless after finishing this amazing story.
It's unbelievable how perfectly this book is written.

It has twists and unexpected turns, things that you could never have imagined at all.

I'm blown way because of the nature of the story. Never have I ever read something like A Carpet of Purple Flowers. I am truly in love with the way this author managed to develop the main idea of the story, that is, the existence of two realms and a wandering soul. An of course lots of romance! I love how each character is unique and all of them are a little complex.

The main characters, Bea, Chance and Karian, are so developed, complex in a new way, with a story and baggage each.

Bea is strong, independant, smart and funny. She is kind and gentle, she is one of a kind. But she also has her past, things didn't end well between her and Brandon. And suddenly after a routinary life she finds herself, caught in the middle of a war. A war between two kingdoms, the Seelies and the Unseelies, both from the same race but opposing sects. And the worst part is that Bea doesn't know any of this, nor the reasons or why is she, in a way, the main reason of the war. But as time passes in the story, we get to join her in a journey of discovering who she is, and why is she so important for both The Seelies and The Unseelies. And as the story goes, she finds herself in not so graceful situations, but at the same time, she lives moments of true happiness, that will stay with her and with you as a reader forever.

It's so awesome to see how Bea faces all the problems that are thrown her way, as all humans she crumbles and fall, but she stand up again and fights. She keeps trying to make what's good for her but at the same time what's good to the others, so they don't get hurt either. She is a remarkable character, in all ways.
Now about Chance, oh Chance, he makes his appearance as a secondary character but climbs his way up to a main character so fast and in an excellent way, slowly he won my heart, as also Bea's love. He is a Seelie warrior, and he is on a mission on Earth, a mission to protect Bea from the Unseelie. It all starts when he enters Bea's library store with Kitty, but what they don't know is that somehow Bea can see one of them. And somehow they have an instant connection. After that moment they start seeing each other and knowing each other, until they fall in love. And this is the thing, their love is pure and innocent, and so incredible. But it's not all happiness, cause Bea doesn't know Chance's true nature, and she's about to discover all the secrets that everybody's keeping from her. But Chance *swoon* he is brave and kind, and SO PERFECT, I have to admit that I did not make an instant connection with him unlike Bea but he gained my love at one point, and wow, he has his baggage, and his problems, and he faces a hard situation because of his new feelings, but never did once he gave up, and he kept fighting for what he wanted until he couldn't.

And now Karian, how I love Karian! He is quite the opposite of chance but he is the perfect book boyfriend, the one everybody wants, he got my love the very first moment I met him, I am absolutely in love with him. He's one of kind, he's smart, caring and so in love with Bea, or at least a part of her. I can't express with words how much this character made an impact on me, how I feel about him. Kari is a go-getter, he's determined on what he wants, on each goal he has, and has not once given up. He's been fighting since he left his realm, and he is not backing down anytime soon. Maybe his ways are not the best, but I can understand him. Of the three main characters, he is the one with the larger baggage. He is the one who was suffered the most. And the things he has been through are horrible. He lost his love once and now he finally found it, he's losing it once again. Kari's story is heartbreaking, his heart and his life were torn apart on a unfortunate day. He's story is one that we get to know detail by detail as we turn the pages and when you think he's finally getting his happy ending. BOOM. An unexpected twist. My heart literally hurts for him.

But that's one of the best things of the story. It's intriguing, and has a lot of mysteries to discover. It keeps you thinking and wondering about what's going to happen next. And when you think you got it, you really don't. It will keep you guessing through all the story but it's entertaining.

Besides, this story has a little thing for each reader out there. It has love, friendship, heartbreak, fantasy, A LOVE TRIANGLE, twists, turns, happiness, sadness and regret. It's a mix of all the possible emotions you can have.

And about the friendship. I love Kitty and Jenny, they are great characters that represent everything that a true friend should be. Oh and let's not forget about Asta and Pia, secondary characters but SO FUNNY, I love them at the instant I met them.

So go get this book please, I'm begging you, go read this story. Meet your next book boyfriend and a new fantasy world you wish you'd live in. It's written in a beautiful way. And It has innovative elements that you probably have never read before! Like A Carpet of Purple Flowers.

Great Story!

I really enjoyed reading this book! I look forward to the second one! I've read a lot of faery books and i found this one quite different and very entertaining.
I bought this book for my Kindle because I follow Tracey-Anne McCartney on Twitter and I like to support new writers and artists when I can afford to.
The story centres around book shop owner Bea and her extraordinary journey with the Sidhe. I wasn't sure if it would appeal to me being an older reader but I really enjoyed the way the story unfolded and linked with Bea's past and possible future. I found it unputdownable and loved the way it flowed. I also think it would make a great film. I'm looking forward to more by this talented author.
Reading this was pure joy ,a mixture of myth and romance emotional battles ,hard choices completely pulls you in fantastically written well worth a read.
Not my usual genre of book but having started reading I could not put the book down and needed to know what happens next. Cannot wait for Book 2 or another from this author. Excellent read.
Bea's journey from innocent book store owner to the centre of two feuding factions of a supernatural race opens her eyes to a new and very different world as well as making her valuable friends. Equally absorbing is her emotional journey as she recovers from a failed relationship to finding old and new loves.
I really enjoyed the twists and turns in the plot, and enjoyed seeing Bea grow and learn how to stand up for herself.
Tracey-anne McCartney has created a fascinating world and I look forward to the next chapter in Bea's life.
A Carpet of Purple Flowers' is a wonderfully rich and sumptuous debut novel by Tracey-anne McCartney. It is an elaborate folklore fantasy, which pulled me in right from the start. The central story involves a complicated love triangle between Bea, Chance, Alithia and Karian (yep, there are four in this triangle). I cared about all of the characters and enjoyed the world McCartney created. There is an especially salient moment where an illusion is shattered, leaving a deliciously gothic image. The ending left me wanting more, and I hope there will be more to come. Recommended.
If you're looking for a good read, something like you've never read before, this is it. An intricate faerie tale where a lost love and new love emerge, changing a simple used book shop owner's life forever.
I was fortunate enough to beta read the first 3 chapters of this book in it's earliest form. Even at that time, it felt magical. The completed book was near flawless. It will be hard for anyone to believe this is a debut book, the writing really is that good. The story is original and the description beautiful, light, airy, and ethereal. In my humble opinion, the story flowed well from beginning to end. I love it when an author gives a subtle build up of tension between characters, not giving away the plot. That is what this author did with Bea, Karian, and Chance. I loved the characters personalities and the story. I will absolutely read this authors future work.
© Copyright Traceyanne McCartney