Brief Bio
Tracey-anne McCartney lives in South London, UK.
Education:
Interior Design - C&G Specialist Paint Techniques - Foundation Degree Mixed Media - Textile Design - Glass Engraving - PTLLS (Adult Teaching Certificate)
Hobbies/interest:
Mixed Media - Papier Mache - Creating Art Dolls - Painting - Sketching- Reading - Researching - Writing
Publications:

Clay/Cloth Art published in various Art Doll magazines, USA.
Exhibited at - The Dollirium Gallery, Canada
Extras:

Papier Mache Stall
Hobbycraft Demo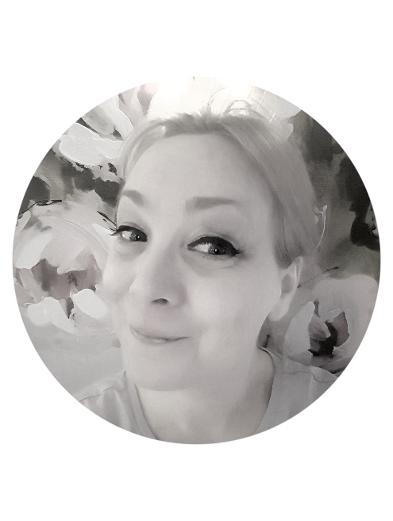 The lady above is never far from tea. She skips around the kitchen, or living room to music or just because. She loves sunshine, rainbows, anything sparkly really, oh, and of course, flowers. She reads more fact than fiction. Adores kindness, honesty, and belly laughter!
She swoons over crystals, pieces of art, and beautifully written words of poetry. She's an incurable romantic but has a logical mind, yup, the two often fight. ;o) She's a complex soul filled with optimism. She believes, (and encourages) that we all are magical in our own little way. She can switch from small talk to deep conversation within seconds. She's a dreamer, an idealist, but also realistic (told ya, complex).
Latest motto (yes, they can change daily):
Love yourself so completely that you have enough to share with others, but don't deplete your own well.
Random stuff:
A way describe the above:
The sun shines bright with love to share
reaching the oceans below
a warm external guiding light
where deep waters rest and flow.
Book Blogger & Guest Author Links
A Lover of Books - Sonya Alford (Guest Post) - READ POST HERE


Chris of '

Writing Round The Block' ~

(Professional Book Review ~ Top 10) -

READ POST HERE
Book Blogging ~ Heroes and Heartbreakers.com - January 2016 Romance Novel 'New Releases' Shopping List

The Debut Dish ~ 'A Debut Author Challenge' feature, is where you go for the scoop on some pretty awesome debut authors and their new books! HERE

Shirley Golden (Author) Guest Post -

READ POST HERE
Questions from readers:
1. I was intrigued as to what started the acorn rolling for your idea, because now I've read your book, the world you created seems so possible. I know you enjoy fairies from your 'Jasmoon butterfly' artist pages, but I wondered if you have dreams come to you, or you just sit and the ideas roll over in your mind.
Oh, gosh, seriously, my mind has always drifted off to other worlds. As a child, I would always daydream of what ifs, where would I like to go, what world would I like to live in. I stopped for a while, but used art as an outlet instead. I think so many creatives/artists would make incredible writers, as they're already connected to the muse and their imagination is amazing. ;o)
Yes, I've always loved faeries, but the traditional kind, more like Tolkien's elves/Irish, Tuatha de Danann. A mystical, human-sized being, it's where I drew the inspiration for my supernaturals.
I really wanted to create something that felt more real, believable. I love fantasy, but sometimes it can be overwhelming. Characters like Brandon exist and bring the fantasy elements back down to earth, that, mingled with real people/emotions help readers relate, I think. Most of my family and friends don't read fantasy/paranormal, so I reminded myself of this and really tried to ground the magic (pun intended). It worked and in a way, crosses many genres.
I also wanted to incorporate spiritualism, but very subtly. I tend to look at things logically, and so question, when writing, is this put as simply as possible? If not, how can I improve it to not feel too 'heavy'. I always try to simplify my ideas as I tend to get carried away with the inner workings. I keep the more complicated bits of information for 'Jonathan's journal' now, which are character's notes on his experiences with sketches. It helps me to understand the more technical side of the world I've created.
I actually attended an Indian head massage class with my daughter, years ago, in Wandsworth. It's not normally her thing, but strangely, we both got different experiences from trying visual meditation. The power of visualisation stayed with me, and I used this experience to drift off into sleep at night. I would visualise a place that was soothing, and honestly, that's where the whole epic story began. Half awake, half asleep, a beautiful serene waterfall cloaked by an ancient forest, far away from prying eyes taking me into a story. That's when Enna, a character for 'The Butterfly Bridge' appeared, and I listened. Her tale is going to be a standalone edition - 4th book.
I incorporate areas that interest me, such as old lore/mythologies across all cultures/eras. I've always crossed-referenced these fables, for no reason that I could see at the time. So many of them relate to each other, a continuation/adaption of an original tale. I've just used elements of these for inspiration and fit pieces into my little puzzle idea of the world I see.
2. I think the story would translate to screen even TV very well. Who would you pick as actors to play the main characters?
It's funny you should say that because I see everything as a film before I write. The books are just cuts of the bigger film/story. I actually shared the images of actors that I had in my mind with some other readers. We agreed on a few, but they have their own ideas, too. It's fun to know who people imagine the characters to be.
Initially I chose a young, Sam Worthington (The Debt / Gettin' Square ) as
Chance.
Now it's a cross between Charlie Hunnam & Theo James.
James Franco (Tristan & Isolde film),
Karian
. Or Sean O'Pry.
Tom Hardy as
Brandon
(The Take, series).
Keira Knightley (Last Night / London Boulevard)as
Bethany
.
Johnny Depp (Sleepy Hollow) as
Jonathan
.
I guess, I saw parts of my characters in those film roles and expanded on them. They've all grown so much already, I'm still in awe at how developed they've all become from a simple spark of an idea.
I believe that a certain magic is carried from our soul through to our creations
- be it a piece of art, dance, poetry, or novel writing, etc.
With this belief in mind, I hope that I can brighten your day
by spreading a little magic and words your way.
Wishing you love and light,
Trace
xoxo
The ramblings of a debut author.
When did you begin writing, and did you always envisage being an writer?

As a child I was pretty creative, of which my hippy upbringing definitely encouraged. My beautiful, incredibly diverse family and friends have always been supportive of any crazy project that I threw myself into, usually involving art or writing. I've never envisaged myself as a writer, more a mixed media artist with a very active imagination ;o)

As a child:
Okay, so without any of high tech stuff we have today: TV, phone, laptop/internet (godsend), etc,(wow, I sound ancient!). I often found myself sprawled over my bed writing or drawing. I would immerse myself into a world of fairies, sunshine, and otherworldly realms. I'm not so very different now. ;o)
Memories - I was too shy to share my stories.
One day a teacher requested to see my mum after (primary) school. I remember being really worried and wondered what I'd done wrong. Upon my mums return, she informed me that my teacher Mr.McAleese, wanted to proudly show her some work that I had completed in class, an illustrated story about fairies. Needless to say, my worries disappeared and I was extremely chuffed. That remains my first memory of writing that someone commended outside of our immediate circle.
Shortly after the teacher incident, a lady called Sandy, (who owned a record shop in Clapham), offered to try and get the same fairy story published, but on finding out, I refused Sandy's kind offer, groaning about people reading my 'Private' stuff. Respecting my wishes, my mum and Sandy, left me in peace with my writing. From that point up into my teens, I continued to scribble away (never actually completing anything) and still not prepared to share my little 'private' world with strangers. Thankfully, that has changed. Creating, selling art and joining online forums/classes, has gently taught me to share my imaginary world. Although, I admit it is still at times, quite a daunting thought placing your imaginary world - 'out there'.
Since writing again as an adult. I have a greater appreciation for every writer, every story and every brave endeavor to get their world published :o)
What is the novel about, and what inspired you to write?
Choose the title of the book?
The novel is about a young woman that works in a secondhand bookshop in SW London. One evening, her normal quiet life turns upside down as she slowly starts to unravel a secret past.
'Purple' has been used in all of the trilogy titles as it relates to the flower of Vororbla - a soul flower. (The soul's return to the source, revolves around the flowers purple mist).
What style / POV do you write in?
I write in 'Third Person Omniscient'. I completely resonate with this style of writing, perhaps, due to the way I see my initial story idea play out as a film in my head - in scenes. When you watch a film there are different camera viewpoints, which adds more depth as visually explaining the information. I write on camera view, the scene/character that I need to tell the story, moving the plot along. This makes a lot of sense to me as I'm an extremely visual person, the artist in me :o)
What theme is present in all of your books?
Romance essentially, a karmic cycle of love.
What do you want readers to gain from your novel?
Ideally, the message that no matter what happens in this crazy life, to always keep your inner light bright and to believe in yourself. We all have ups and downs and when you're at your lowest ebb, to remember that you can only go up and that the magic begins within.
What advice would you give to other budding writers?
Practice, practice, practice!
I remember reading: The most important thing - is just to get your story down.

Upon writing my first query letter for publishers / agents, I refused to allow the fear of being new to the literary world get in the way. Everything was completely new to me. I had no previous experience of this new world that I was entering and no qualifications in writing. All I had (still have) is pure determination and lot's of ideas. ;o) Getting my story out there and the need to share a new perspective, mixed with lots of positive thinking. I researched, asked lots of questions and joined forums.
I have edited, edited and edited again, until my eyes felt as if they were ready to pop out of their sockets. Sometimes, you need to take a step back from your work and return to it after a well earned break. You will feel refreshed and be able to read the manuscript with a clearer, more objective mindset. It's good to read the words aloud, do they flow? Do they sound realistic? Etc.
Do you want to know what gave me the biggest of headaches? You do? Good, because I'm going to tell you ;o)
The synopsis. Oh, my goodness, wow, I honestly struggled with this in the beginning . In hindsight, I suggest scribbling down a brief note on each chapter, then go back to these simple notes when ready to create your synopsis. For me, trying to keep my synopsis simple, proved difficult. I realised that my story had quite a lot going on and condensing it down to only two pages, was proving impossible while still leaving all of the essential story-line/characters in.
Now, the blurb on the other-hand, I wrote in twenty minutes. Shhh! Don't tell anyone. ;o) So, I took it from there and voila, the two and four page synopsis was finally complete...phew!
Mostly, I would really like novice writers to feel that anything is possible and please, NEVER, EVER give up on your dreams ;o) It will be hard,frustrating at times, and bring tears, but with lots of hard work, determination, belief in yourself and your story - you WILL get there - I remind myself that there is always ways to improve, especially after a little meltdown, ;o)

Work hard to reach those goals, we are all still learning - put those thoughts out there, and REMEMBER -
Imagination is more important than knowledge - Einstein
Which other books or authors inspired you to write?
The crystal cave, The mists of Avalon, and many more! (Pop over to Goodreads).
I love 'The mists of Avalon'. I really resonate with this type of theme - the goddess, ancient wisdom, etc.
I also enjoy Dan Brown's style of writing, his play of fact and fiction - very clever. He excites the mind, daring you to apply your own research, to think a different way. His books have interested many that would not have normally read that genre/topics.
Let's not forget WB Yeats, CS Lewis, Conan Doyle, Fiona Macleod / William Sharp, and many, many others.
More ramblings, ready? lol - I remember often going off on adventures around London with a dear family friend, Keith. He reminded me of an old professor, very knowledgeable and snazzily dressed in a Rupert bear, checked suit, which included the dickie bow. *Giggles* We visited Charles Dickens house in London. I was in total awe and the memory has stayed with me ever since - magical. Children can be inspired by writer's in many different ways. So, by incorporating visits / travel to places with stories attached - visually inspire as well as reading, for we all have different learning styles. ;o)

Do you see yourself as a one genre author, or are there other elements in your writing that you can see yourself developing in the future?
Hmm, I see my story as being quite diverse and hopefully, my writing reflects this too. Actually, when I was trying to decide on what genre 'A carpet of purple flowers' would fit into - I noticed that it contained various elements - undertones of spiritualism, fantasy, paranormal and romance. I would really love 'Spiritual Romance' to become a stronger genre in the future - 'stories' with meaning/message of hope / insight ;o)
I would like to create a little separate book of the Sindria elementals. How they came to be in more detail and to include the 'The Heaven Stone' teachings. When I was editing, I had to condense the book and really don't want to lose those parts.
Possibly write a book on the Deisi too, their original purpose, origins, etc.
It would be quite interesting to create Jonathan's journal, including artwork - via different artists, perhaps.
What inspired the title of your book?
'The butterfly bridge' was floating around in my head for about two years prior to 'A carpet of purple flowers'. Everything stemmed from the visual inspiration of a glade hidden by woodlands. Where a small, serene waterfall existed in a world far from prying eyes. Opposite the waterfall was a large, ancient Oak tree. This visualization was initially a place for me to rest my busy mind before drifting off to sleep. Then one night, a young woman appeared by the waterfall, her name Enna - and that was the starting place for my writing.
I knew that 'The butterfly bridge' would take quite some time to write as quite complex. So, I decided to start from a place that I knew well - SW London. This story very quickly grew into a trilogy. It was then that I decided that 'The butterfly bridge' was to be the fourth book, a prehistory, stand-alone addition.
At one point, I had mentally stored a total of four books, and they screamed to get out onto paper. It's amazing how many pens and pencils you can get through. ;o)

What do you like to do when you are not writing?
I love to be creative, drawing, painting and making art dolls. I research all sorts of ideas and factual stuff. I'm also an avid Pinner, which you'll notice throughout the website.
Do you feel that your background has helped you with your career as a novelist?
Definitely. It is through a mix of life experiences, crazy situations, conversations with friends and family that I have been able to grow and develop. My contact with other artists and tutors has also been a wonderful, insightful experience. The support offered by all of these very special people still touches my heart - they have all been amazing!
Do you do a lot of research before you start writing?
Ha! Ha! Yes, I do, actually I never stop ;o) . My mind races, it needs to be permanently fed information. (Not that it all stays in there.). I research everything, then sift through what I feel is relevant to the story. There are few notebooks that I use to store factual, mythical information and I usually refer back to that at a later date - cosmology, astrological, historical, pieces of lore etc. I find it all extremely fascinating! Soul food.
How do you write? Pen and paper? Computer?
First, I jot down all of the images / scenes going around in my head. Then, I organise my ideas into chapters, more a rough guide at this stage. By this time my characters have developed and I write notes on their personality, etc.

Once I've got the basics down, it's time to approach the laptop. I initially dreaded that part and I had to read up on the manuscript format, etc - what a new world this was indeed.
As I do not write continuously from the first chapter to the last. I had to plod along with certain chapters that I didn't really feel ready to write yet, (yep a feel thing) - but I had to get those gaps filled in and so continued to type. At a later date, I went back to those dismal chapters and revised/improved (the story actually guides you as to where it wants to go. It takes on a life of it's own).
After around seven months, I found myself with a completed manuscript. I was so pleased, little did I realise the real work was about to start - editing. ;o)
Do any of the characters in the book relate to your own life?
*Giggles* I think with any writer some element of the self flows onto the pages. I mainly connect with Bea, the main character. However, I can also see a bit of myself in Kitty, Pia and Asta - depends what mood I'm in ;o)
Other characters such as: The Boughs and Liza, do relate in part, to people that I know and yes, they are aware of it too.
What feedback have you had from family and friends, or other people who have read your novel?
I was quite shy about people reading my writing, so I gathered up a sort of visual storybook for my family/friends to view first. This received great feedback. So, once the manuscript was complete (first draft), I promptly gave it to four different women of different age groups to read and to my dad (the first male). They all enjoyed it (phew), saying that they would read book two.
Next, I decided it was time to invest in a freelance editor. Friends and family are great for initial feedback, but I needed someone professional. I collaborated with a brilliant lady called, Cate Hogan. She was super-fast, friendly and very constructive in her advice, and off to work I went. Since my first draft in Dec/Jan 2014, I have been working hard day and night, reflecting, making revisions. I am almost there, I think, lol.
I have ten beta readers that have been fab! They have all given me wonderful, helpful critique, which can be read HERE.
Overall, writing my first manuscript has been a very positive journey. Yes, there has been some difficult moments when I have questioned myself and my abilities, but something has pushed me on - the need to share the 'otherworld' that lives in my heart.
I'm in gratitude to my super family, old friends and new, for supporting me through this whole process. Nearly there. ;o)
Thank you too, so very much, for taking the time to visit my page and for showing your support.
Have a beautiful day ;o)
Love and light,
Trace
xoxo
May the wings of the butterfly kiss the sun
And find your shoulder to light on,
To bring you luck, happiness and riches
Today, tomorrow and beyond.
~Irish Blessing
Messages left for Tracey-anne
1. Ross Mountney (author): - Really enjoyed reading this - luck and happiness to you too! :)

2. What a lovely site! It is such a pleasure—beautifully composed and created. Thanks so much for inviting me here. We wish you every continued success in all of your creative endeavors, (author) Ruth Cunningham.
Feel free to contact Tracey-anne ;o)